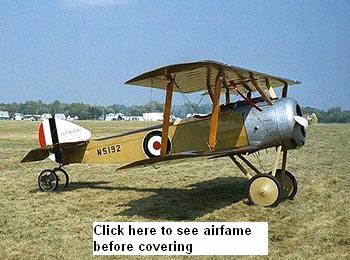 Sopwith Pup
Welcome to my Sopwith Pup building page.
Over the next few months I will be endeavouring to build a quarter scale model of this famous aircraft.
The kit I have chosen to build from is a Balsa USA 1/4 Scale Pup
Kit
So What is in the box ?
On opening the box you are confronted with a set of rolled plans, Four in total, Balsa strip wood, balsa Sheeting, plywood sheeting strips, rib packs and plywood formers.
You are also supplied with preformed undercarriage wires, preformed inter plane struts and an ABS Cowl ( this is somewhat flimsy so was replaced with Aluminium one, see picture above) and a general fixings pack.
Power Plant
The picture above shows a Zenoah 26 cc Petrol engine with their new electronic ignition. The Kit manufacture recommends a 91 to 120 glow motor and I had thought of using a ASP Four stroke which I have begging to power something. But after looking on several forums to see what other people are using it became apparent that a lot of people are opting for the Zenoah with the reviews stating that this engine make for a good combination.
Other items sourced so far
On paying a visit to my local model shop, just by chance there happened to be a 1/4 scale Vickers Machine Gun that had been placed out. This kit is made by Williams and held its original price of £17.00. So I brought it then and there, they will cost around £21.00 nowadays so a bargain was had.
The Building Process
Construction of Stabiliser
Construction of Rudder and Fin
Fuselage page
Struts & Control Linkages
Construction of Wing
Aileron installation
Engine installation
Final Construction
Aluminium panels
Rib Tapes
Covering the Pup
Scale Detail
Rigging
Painting the Pup